Moorland Continues Support of..
---
Hillstars Walk Away with 2016 Moorland Pat Anderson League Trophy
Moorland Development Company Limited (MDCL) continues to provide strong support to sports, education and community development in Manchester.
Moorland, who are title sponsors of the Pat Anderson Manchester Football Association (MFA) Under 16 League, participated in the recent MFA Awards for the 2016 Football competitions. The awards ceremony was held at Golf View Hotel in Mandeville.
Marketing Sales & Public Relations Manager at MDCL, Marie Berbick and Accountant Nicay Burrell presented trophies to the winning teams and top players in the Pat Anderson MFA Under 17 League. Ms. Berbick lauded the MFA's management of the league and reiterated MDCL's commitment to investing in the youth and giving back to communities through sports and education.
Read more
"Moorland Development Company is pleased to provide $4m in sponsorship of the league, over the next three years. We are happy with what we have seen thus far and confident in the leadership of the MFA. We expect the MFA to continue playing an integral role in the development of the football program in Manchester and by extension, the national programme," she said.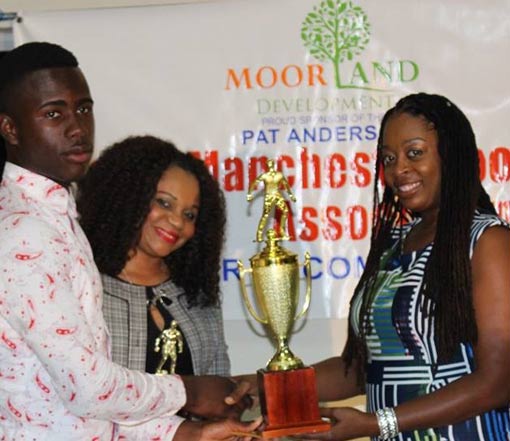 Daniel Russell of Hillstars FC receive the Championship trophy for the 2016 Pat Anderson MFA Under 17 Competition from Moorland Development Company's Marketing PR & Sales Manager Marie Berbick (2nd left) and Accountant Nicay Burrell.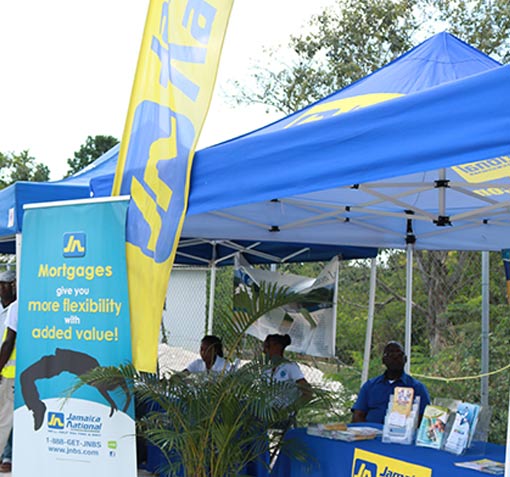 The NHT Booth at Moorland Development Company's Open Day for PalmBrook Estate
NHT Lending $2m to Buy Land
Did you know that the NHT lends $2m to buy land? Yes, if you are NHT contributor, it is possible for you to access up to $2m of the funding required to purchase a lot from us.
Who qualifies for a loan?
To qualify for an NHT Loan you must:
Be currently contributing to the Trust.
Have made at least 52 weekly contributions of which 13 must have been made in the last 26 weeks just before the date of your application.
Have paid up, with interest, any outstanding contributions due in the last 3 years. Exceptions are Voluntary Contributors or persons earning less than $7,500 per week who are only required to pay up contributions for 1 year.
Be between the ages 18 and 65.
Be earning an income which allows you to repay the loan.
Each loan has a different maximum amount or loan limit that can be accessed by a Contributor.
Read more
THE NHT's House Lot Loan
As a NHT contributor, you may use this loan to access funds needed to purchase land being sold by private individuals or companies.
The House Lot Loan is a Non-Homeowners' Loan. If you have previously received a loan from the NHT you may still be able to access funds to buy property through their HOPE Loan product.
Through the House Lot Loan you can borrow as a single applicant or you may co-apply with 1 other qualified NHT contributor to access a higher loan limit to purchase the house lot. If you need (and can afford) to borrow more money you may seek additional funds from another lending institution that is willing to enter into a Joint Finance Mortgage with NHT.
Additionally, you may be eligible to access funds to build on the lot through NHT's Construction Funds Loan product.
To learn more, visit the NHT's website at www.nht.gov.jm
Moorland partners with JN
---
Moorland Development Welcomes Jamaica National As Preferred Lender Partner – PalmBrook Estate
Moorland Development Company Limited (MDCL) is pleased to announce that Jamaica National Building Society (JNBS) is now a Preferred Lender Partner for our newest gated community PalmBrook Estate.
PalmBrook Estate which comprises 382 residential lots is located in Lacovia St. Elizabeth and is the first development of its kind in western Jamaica. PalmBrook Estate was formally introduced to the market in March 2016.
Through this partnership with JN, Moorland aims to simplify the loan application process for prospective lot owners, who will benefit from the following:
Read more
Utilize JNBS panel of attorneys to prepare mortgage documents at a negotiated fee.
Discounts on Valuation fees. Valuator must be JNBS approved. (See JNBS Panel of Valuators)
Processing of NHT loans under Joint Financing Program
*Additional funds towards home enhancements (air conditioning, heater, fencing, grills water tanks, etc.), based on customer's ability to service the loan
One month moratorium for the 1st month's payment to be added to the term of the loan
Member of JN Show Your Card & Save discount program
NOTE:
Benefits apply if total loan value does not exceed JNBS's lending guidelines of 90% financing.
Member will benefit from select merchant discounts.
Another key benefit of the partnership with Jamaica National is faster timelines for your loans to be processed as outlined below.
Operating Time lines
Mortgage Request from Realtor/Developer to JN Retail Sales Representative
Contact made with Prospect – within 24 hours
Pre-qualification of customer – within 24 hours
Pre-approval letter prepared and issued – within 24 hours from receipt of all required documents
Email confirming contact sent to Realtor/Developer – by end of day
Issuance of Letter of Commitment – within 48 hours of approval
Disbursement of loan proceeds -within 24 hours (standard) -within 72 hours (NHT loans)
Mortgage Processing Timelines
From receipt of ALL documents to approval of loan

Under $10M– 3-5 working days
Over $10M – variable

From receipt of Loan Approval to disbursement – 6 to 8 weeks
Please note that to achieve the noted turn-around times, ALL documents must be accurately
completed.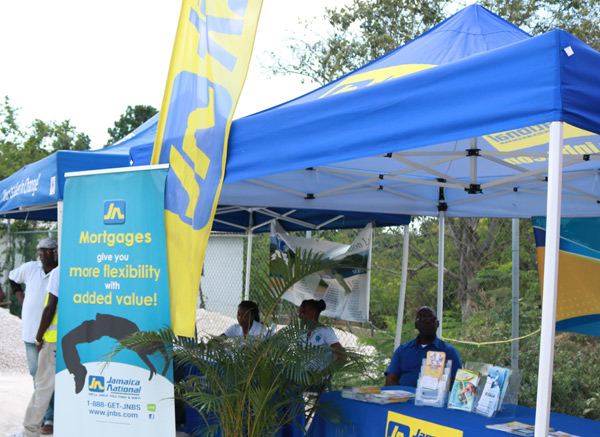 JN is now a Preferred Lending Partner for PalmBrook Estate
We strive to build and operate our properties in a sustainable manner.