PalmBrook Estate
Moorland Development Company Limited takes our tag line "The Best of Living Inspired by Nature" to Lacovia St Elizabeth and introduces our latest gated eco-friendly residential community PalmBrook Estate.
Situated on 377 acres amid the panoramic natural beauty of the Lacovia plains and set against a backdrop of the Santa Cruz mountains; PalmBrook Estate is an exciting, picturesque, gated and eco-friendly community. The development features 380 residential lots, a Clubhouse and Sports Park, 3 Kids Parks, a Palm Park and over 8 acres of space for commercial and social service activities.
The community has distinguished itself from concept to construction by respecting the ecology of its location by preserving large natural areas to protect local habitat, water, and other resources. With a private gated entrance that is monitored 24/7 as the only access to PalmBrook Estate, it is easy to understand how the community gets its designation "Secure Living in Nature's Arms".
Clubhouse and Sports Park
At the heart of PalmBrook Estate will be 6.8 acres for an elegant Victorian style clubhouse and sports park. The Clubhouse, the centrepiece of this exquisitely designed gated community, is a 4,500 square-foot Victorian styled structure with the main level having a spacious great room and kitchen area, ideally suited for any social event or meeting.
The main level also connects directly to the 50 meter swimming pool, with a perfect combination of natural palm tree shade and sunlight for sunbathing. You can also enjoy a poolside BBQ, or time with family under the adjacent palm-covered gazebo.
The lower level will feature a fully equipped gym where community members can enjoy a state-of-the-art fitness centre, a community lounge, activity centre and game room suitable for kid friendly events.
An expansive deck overlooks surrounding trees and tennis courts with foot-paths leading to the sports park which will feature a full-size football field and multipurpose hard-courts for tennis, netball and basketball and more.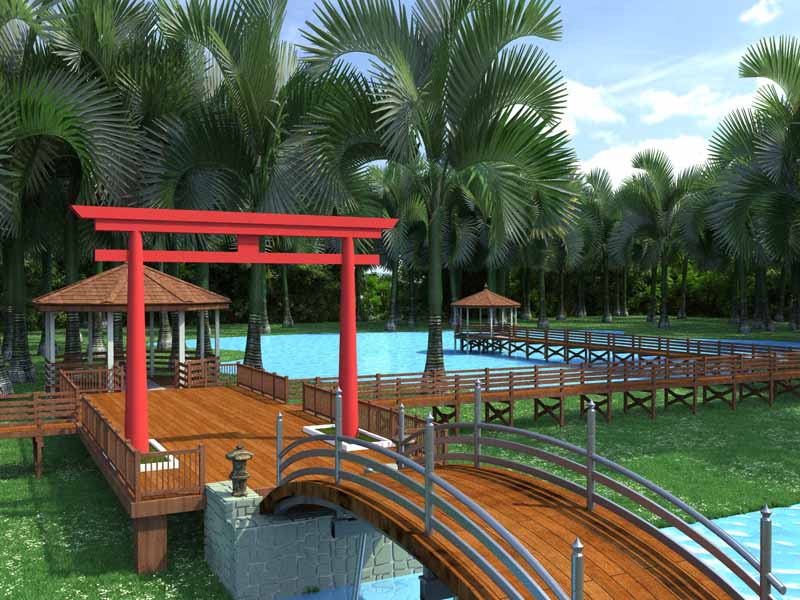 Palm Park
Within the 33 acres of forestry / natural reserve is an elaborate outdoor trail system that winds its way throughout majestic giant palm trees and leads to both natural and man-made private lakes. The private lakes will be well stocked for the avid fisherman or create great family bonding experiences as children get a chance to discover the great outdoors and a new hobby. Share in the moment when they land their first catch or as they end up skipping stones across the lake instead of casting their line.
We strive to build and operate our properties in a sustainable manner.